Awards
Science Quality Mark
PSQM Press Release September 2016
School Awarded Primary Science Quality Mark
Primary Science Quality Awards have been awarded to 270 infant, junior, primary, middle and special schools to celebrate a commitment to excellence in science teaching and learning. So far, since its national launch in 2010, over 2000 schools across the UK have achieved the award.
The Primary School Quality Mark scheme enables schools to work together to share good practice and is supported by professional development led by local experts. It encourages teacher autonomy and innovation while at the same time offering a clear framework for development in science subject leadership, teaching and learning.
The Primary Science Quality Mark is led by the University of Hertfordshire School of Education in partnership with the Primary Science Teaching Trust. It is supported by the Royal Society for Chemistry, the Ogden Trust and the Association for Science Education.
Jane Turner, PSQM National Director said: "Gaining a Primary Science Quality Award is a significant achievement for a school. The profile and quality of science teaching and learning in each awarded school is very high. Children are engaging with great science both in and outside the classroom, developing positive attitudes towards science as well as secure."
Rights Respecting Schools Award
Last year, Arnhem Wharf began working towards achieving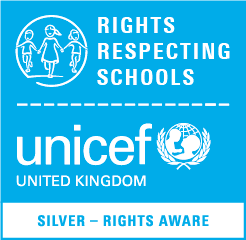 the Rights Respecting Schools Award from Unicef. This award recognises achievement by schools in embedding children's human rights in their ethos and culture. We are delighted to have received the silver award and continue to promote these values as we work towards the gold award.
Healthy Schools Gold Award
We have been awarded the Healthy Schools Gold Award demonstrating, sustaining (and learning from) outcomes to support children and
young people to achieve and maintain good health and well-being.
Gold Artsmark
Arnhem Wharf has been awarded a top arts award
Arts Council England has awarded an Artsmark "Gold" award – the highest award available— to our school in recognition of the school's excellent arts provision.
Only 196 schools in the whole of London have won a Gold or Silver award in the nine years the scheme has been operating.
In response to this great news, Sara said, "I'm delighted that the Arts Council has recognised Arnhem Wharf's dynamic arts education programme. Our students have really enjoyed working with a variety of local and national artists in the past year - just last month we had a visit from Children's Laureate, Michael Rosen. He praised the school too for its positive atmosphere and poetry work."
Year Six pupil Sahra Botan said,"I'm proud to be a student at this school because I get so many opportunities – like the mandala, the peace and harmony sculpture and the pocket opera project. All the children are involved in lots of art projects and I really think the school deserves this award."
Moira Sinclair, Executive Director, Arts Council England, said, 'The award recognises Arnhem Wharf's passion for the arts and belief in the power of creativity. We believe that the earlier children are creatively inspired, the more likely they are to have a lifelong engagement with art. Arts Council England is pleased to be working with schools to help raise children's aspirations and support the artists of the future.'
Janet (Arts Coordinator) said, 'Everyone in the school has worked so hard to get this award—staff and children alike. We aim to provide the best possible opportunities in music, art, drama and dance at Arnhem Wharf and this award endorses our efforts."
Platinum Sing Up Award
Sing Up places singing at the heart of every educational setting.
Their wide range of resources and songs are designed to help include singing as an aid to cross-curricular learning in the classroom or to act as a complete foundation for singing and music across the school.
The Platinum Award is for schools that:
Have been a Sing Up Gold Award school for one term
Sustain development and extend participation in singing to the wider school community
Commit to become a learning community; embracing the richness of diversity to develop quality singing activities
Commit to extending and developing the quality of vocal leadership and singing in and outside of school and with the wider school community
Have an outward focus, inspiring and sharing their singing ethos
STEM Ambassadors
STEM Ambassadors are volunteers from a wide range of science, technology, engineering and mathematics (STEM) related jobs and disciplines across the UK. They offer their time and enthusiasm to help bring STEM subjects to life and demonstrate their value in life and careers. STEM Ambassadors are an important and exciting free-of-charge resource for teachers and others engaging with young people in and outside of the classroom.
We have been recognised for encouraging and inspiring our pupils in STEM subjects through the use of STEM Ambassadors.